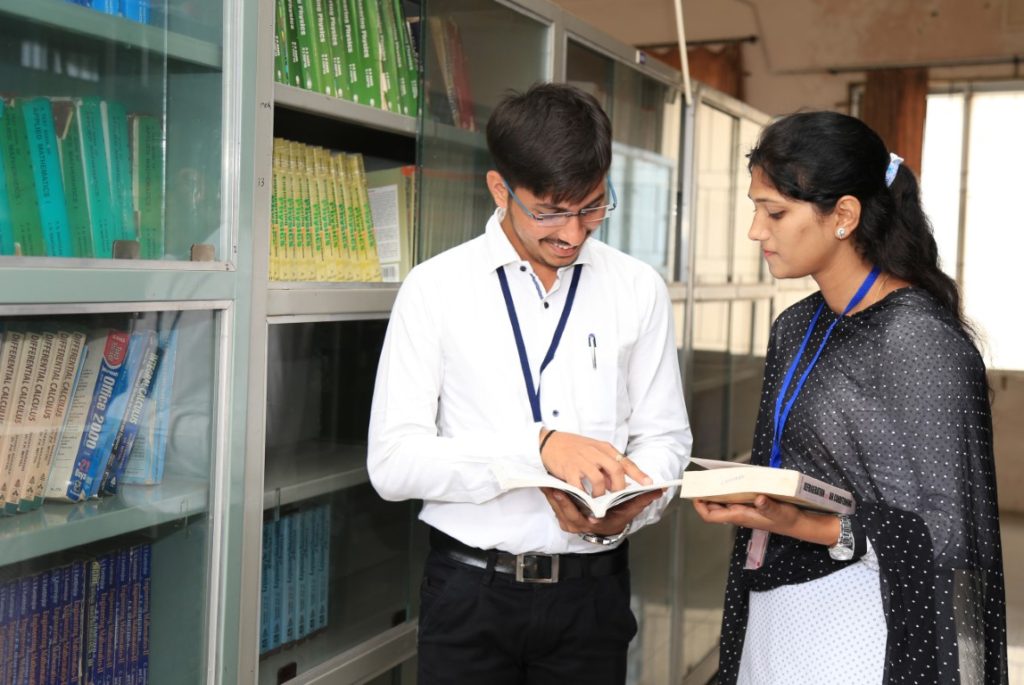 The central library of Dr. D. Y. Patil College of Agricultural Engineering and Technology Library aims to develop a community of the College. The collection of the library includes books, journals, reports, CD-ROM data bases. The library offers services such as reference service, user guidance service, circulation service Xerox service, internet, CD- ROM search service, etc.
Library automation / Computerization:
The Library is using the "AutoLib", an integrated, multi user, library management software package that supports all in-house operations of the Library. "AutoLib" consists of modules on acquisition, cataloguing, circulation, serial control, article indexing and OPAC. This centre is equipped with 20 computers having internet facility.
Library
Sr. No.
Particulars
1
Subject wise Text Books              - 2709 Books
2
Subject wise Reference Books     - 1078
3
Magazine – 13

1.  Kisan World
2.  Rashtriya Krishi
3. Agrobios News Letter
4.Indian Farming
5. Indian Horticulture
6. isaMcana
7.yaaojanaa
8. kRiYa pNana ima~
9.SaotI pi~ka
10. kRiYa iva&ana
11. BaUsaMvaQa-na
12. SaotkrI
13. Aaplao Aad-Sa gaava

4
Journals  – 07 1. The Indian Journal of Agricultural Sciences 2. The Indian Journal of Animal Sci. 3. Journal of Agro-Meteorology 4. International Journal of Processing & Post Harvest Technology 5. International Journal of Agricultural Sciences 6. Research Journal of Animal Husbandry & Dairy Sciences 7. International Journal of Agricultural Economics & Stastics
5
News Papers – 10
1. Indian Express
2. The Hindu
3. Agrowane
4. Loksatta
5. Sakal
6. Pudhari
7. Maharashtra Times
8. Tarun Bharat
9. Lokmat
10. Punyanagari
6
Internet Facilities – 25 Mbps Lease Line
7
e-Journals – 07
1. Bharitya Krishi Anusandhan Partika 2. Annals of Plant Protection Sciences 3. Indian Journal of Entomology 4. Indian Journal of Extension Education 5. Indian Journal of Plant Protection 6. Journal of Soil & Water Conservation 7. Progressive Horticulture
8
Other Facilities 1. e- Library 2.Xerox Machines 3.Printers 4. Scanner
     Special Features of Library:                      
Full Automation with bar-coding used with library Software – Auto-lib.
Old Exam paper available in pdf format.
Text book of Exam Planner for Ist& IInd year students is available.
Use of e-course on line e-learning portal. Under Learning and Capacity Building program of NAIP (National Agricultural Innovation Project).
e-journals available for student & Staff.
CCTV camera in library
Plans for Growth & Development
Full computerization in the Library, Online membership connectivity with major engineering databases. Institutional membership with libraries of reputed technical institutes such as IIT s.
 Competitive Form material
Special collection of
books
and other documents procured for
competitive examinations
such as ICAR entrance exam, JRF, SRF, NET, MPSC, UPSC, & other competitive examinations developed and made available to the users.
Library Staff
| | | | |
| --- | --- | --- | --- |
| Sr. No. | Name of the Staff | Designation | Qualification |
| 1. | Shri. S. S. Yerudkar | Librarian | M. Lib. & Inf. Sc |
| 2 | Shri. A. K. Todakar | Asst. Librarian | M.A , M. Lib. & Inf. Sc |
| 3 | Shri. S. R. Chibade | Peon | H.S.C |